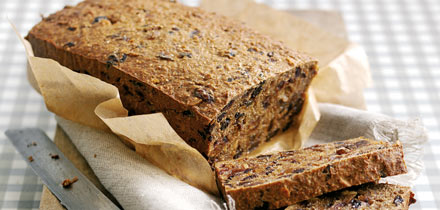 Nutrition Facts
Servings 10
---
Amount Per Serving

% Daily Value *

Total Fat 1g

2

%

Saturated Fat .2g

1

%

Net Carbohydrate 31.2g

11

%

Sugars 31.2g
---
* Percent Daily Values are based on a 2,000 calorie diet. Your daily value may be higher or lower depending on your calorie needs.
1
Preheat the oven to gas mark 4 / 180ºC / 350ºF.
2
Place the fruit in a bowl and pour over the cold tea, leave to soak overnight or for a few hours. The tea should just cover the fruit.
3
Drain the fruit and reserve a cupful of the liquid.
4
Add the flour to the fruit and pour in the beaten egg.
5
Stir well with a wooden spoon.
6
If it looks too dry, add a little of the tea that was reserved.
7
Line a loaf tin with greaseproof paper or use a non-stick cake tin and pour the mixture into the tin.
8
Cook for 1-1¼ hours on the middle shelf. This produces a cake with a moist, doughy texture a little like malt loaf.