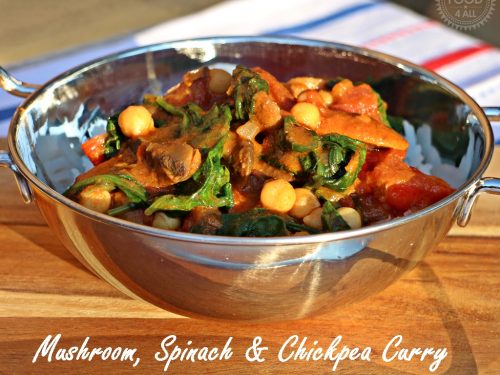 Nutrition Facts
Servings 4
---
Amount Per Serving

% Daily Value *

Total Fat 3g

5

%

Saturated Fat .2g

1

%

Net Carbohydrate 0g

Sugars 2.8g
---
* Percent Daily Values are based on a 2,000 calorie diet. Your daily value may be higher or lower depending on your calorie needs.
1
Onion - Medium - Chopped
2
Garlic Cloves - Crushed
2
Balti Paste - Heaped Dessert Spoons
1
Chick Peas - Can - Washed and Drained
6
Spinach - Handfuls - Fresh or Frozen - Washed and Chopped
10
Mushrooms - Medium - Sliced
1
Fresh Coriander (Large Handful) - Washed and Torn (Optional)
1
Put the oil in a large, non-stick frying pan or wok and heat.
2
Add the onion and gently fry until soft then add the garlic (use more or less according to taste).
3
Add the balti paste (always take paste from the bottom of the jar to avoid excess oil) and fry for one minute.
4
Add the chickpeas, spinach, mushrooms and canned tomatoes.
5
Mix and bring to the boil, then simmer slowly on a low heat for approximately 20 minutes.
6
Wash the coriander; roughly break up the leaves with your hands and mix into the balti, then serve.