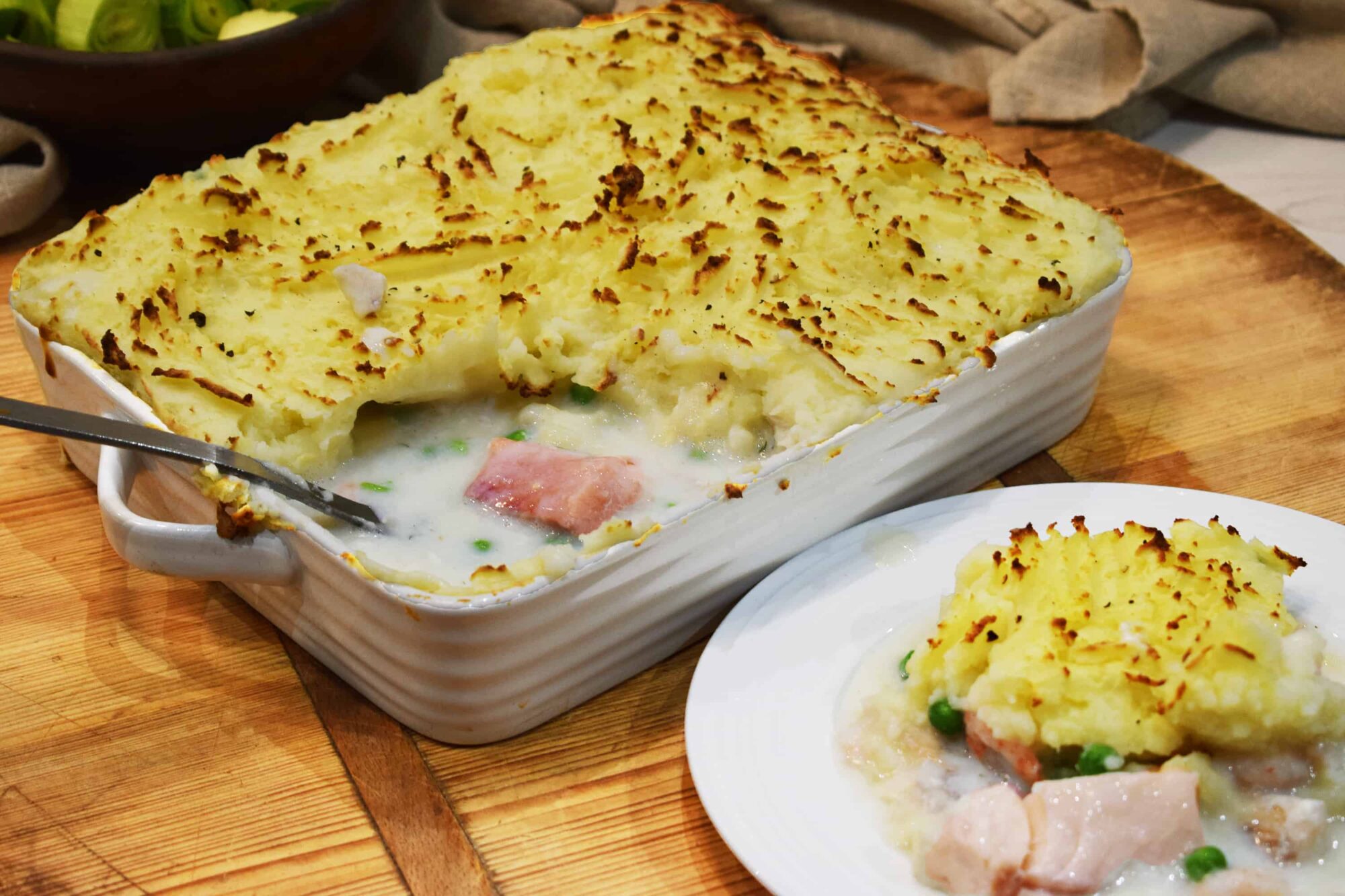 Nutrition Facts
Servings 4
---
Amount Per Serving

% Daily Value *

Total Fat 9.4g

15

%

Saturated Fat 2.8g

14

%

Net Carbohydrate 5.7g

2

%

Sugars 5.7g
---
* Percent Daily Values are based on a 2,000 calorie diet. Your daily value may be higher or lower depending on your calorie needs.
6
potatoes (peeled & cut into cubes)
25
ml
skimmed or semi-skimmed milk
125
g
mackerel in tomato sauce (1 tin)
125
g
tuna fish in brine or spring water (1 tin)
1
dessert spoon low calorie mayonnaise
200
g
frozen or canned sweetcorn (in water if tinned) 1 small tin
200
g
frozen or canned peas (in water if tinned) 1 small tin
25
g
mature cheddar cheese grated
1
Pre heat the oven to gas mark 6/200ºC/400ºF.
2
Place the potato cubes in a large saucepan, cover with cold water and bring to the boil. Reduce the heat and simmer slowly for about 15 minutes until the potatoes are soft. Drain the potatoes and mash with the milk and a little of the black pepper. Set aside
3
Mix the mackerel and drained tuna together with the mayonnaise, sweetcorn, peas, spring onion, mixed herbs and the remaining black pepper.
4
Place in an ovenproof dish.
5
Spread the mashed potato over the top of the fish and vegetable mixture. Arrange the sliced tomato on top and sprinkle the cheese over the top.
6
Cook in the oven for 15-20 minutes or until the cheese browns
Handy Hints
7
* Serve with plenty of vegetables.
* Add another tin of tuna or mackerel for larger families.
* Mackerel is an oily fish – to keep your heart healthy, you should
aim to eat at least one portion of oily fish a week.
* Using tuna in spring water rather than brine will reduce the salt